2020 Cumbria ASA Virtual Diddy Competition
As outlined in the information given a few days ago in the 'Return to Competition', Cumbria ASA will be running a virtual Diddy Competition
starting on November 1st and lasting until December 16th based upon some of the concepts in the forthcoming Swim England Level X Racing. This is the first step by Cumbria ASA at providing competitive opportunities for our swimmers. This will be a 'one-off' competition to give swimmers something to work towards and to test the concept of virtual competition; if it is successful then we would aim to run something bigger and better​​​​​​ in the New Year.

The reason we have chosen the Diddy League as the basis for 'dipping our toe in the water' is that the administrative side of holding this competition does not require too much development. As will be seen, many of the normal concepts that we are all used to for competition have been suspended.

The competition rules are given in this link Virtual Diddy Competition Rules but these are some of the salient points.

This competition will use the usual Diddy League programme of events. It is intention that this programme will be swum over several weeks during normal club training sessions thus creating a number of opportunities to complete all of the events and hopefully not putting too much pressure on club activities.

The 'racing' should only be for those swimmers who usually swim at a particular session. Swimmers should complete a short warm up and then complete the events that have been chosen for that session.

If because of local risk assessments/Covid restrictions it is not possible to swim a complete relay event with successive takeovers in one lane, then it is permissible to take the times of individual legs and add them together and submit this as the declared time for that event.

The pool must remain compliant with the current pool risk assessement. (A link is given in the rules to the latest Swim England guidance that was available when the rules were written.)

Clubs may enter more than one team and this can include Category 1 and Category 2 swimmers but a swimmer should only compete for only one team.



The programme of events is broken up into weekly 'blocks' and hopefully each team can complete the events in that block each week.

Clubs will be provided with an Excel spreadsheet on which to record the times for each event. Clubs are asked to submit the spreadsheet with their results on a weekly basis (each Monday) to the Diddy League secretary (Sam Bell) who will compile the 'league table' and this will be published on this website later in that week.

However, if a club cannot complete all the events in a particular week they should still send in their results, and then try to catch up on the outstanding events in the following week. Clubs should stick to the events in a specified block/week i.e. they do not swim, say, events 19 to 24 in the first block.
One of the important points with Level X Racing is to limit the number of volunteers on the poolside; we are using this guidance and as such only require a starter and an official to verify the results (who can be qualified at any level) and timekeepers (who only need to be Swim England members). However, if clubs wish to use qualified officials,

who may not have been on poolside for many months and who wish to get back into action, they are

clearly they are free to do so.

It would be very useful if clubs could let Sam Bell know how many teams they will be entering as soon as possible so that their results spreadsheet can be tailored appropriately.

If there are any queries please contact Sam Bell, Martin Tickner, Mark Ralph or Keith Chisholm
League Table after .............. events


______________________________________________________________________________________________________________________________________

2019 DIDDY LEAGUE
 
Diddy League Rules 2019
ROUND 1
Saturday March 16th
Venue: Copeland
Lane
Gala
Points
Combined Points *
League Points for the round
Penrith
1
94
156
4
Cockermouth
2
130
237
7
Copeland
3
82
146
3
Workington
4
72
112
1
Carlisle Aquatics
5
160
301
10
* Combined Points calculated by adding both galas together
Venue:
Barrow
Lane
Gala
Points
Combined Points*
 
League Points for the round
Barrow
1
100
197
5
Ulverston
2
116
227
6
Carnforth 'A'
3
147
277
8
Kendal
4
144
278
9
Carnforth 'B'
5
58
127
2
* Combined Points calculated by adding both galas together

League Table after Round 1
Points

Carlisle Aquatics

10
Kendal
9

Carnforth 'A'

8

Cockermouth

7

Ulverston

6
Barrow
5
Penrith
4
Copeland
3

Carnforth 'B'

2

Workington

1
ROUND 2
Saturday May 18th
Venue: Carlisle
Lane
Gala
Points
Combined Points*

League Points for the round

Workington
1
67
115
2
Ulverston
2
126
230
6
Carlisle Aquatics
3
164
321
10
Carnforth A
4
153
284
9
Carnforth B
5
45
75
1
* Combined Points calculated by adding both galas together
Venue: Penrith
Lane
Gala
Points
Combined Points*

League Points for the round

Copeland
1
99
182
4
Barrow
2
106
196
5
Kendal
3
151
280
8
Cockermouth
4
131
248
7
Penrith
5
83
158
3
* Combined Points calculated by adding both galas together

League Table after Round 2
| | | | |
| --- | --- | --- | --- |
| | League Points | Position | |
| Carlisle Aquatics | 20 | 1 | |
| Kendal | 17 | 2= | |
| Carnforth A | 17 | 2= | |
| Cockermouth | 14 | 4 | |
| Ulverston | 12 | 5 | |
| Barrow | 10 | 6 | |
| Penrith | 7 | 7= | |
| Copeland | 7 | 7= | |
| Workington | 3 | 9= | |
| Carnforth B | 3 | 9= | |
FINALS
Workington Saturday June 15
'
B' Final
Lane
Gala
Points
Position
Carnforth B
2
89
5
Penrith
3
121
2
Barrow
4
113
3
Copeland
5
129
1
Workington
6
96
4
'A'
Final
Lane
Gala
Points
Position
Ulverston
2
82
5
Kendal
3
121
2
Carlisle Aquatics
4
159
1
Carnforth A
5
108
4
Cockermouth
6
110
3
Award Winners 2019
Most points after Round 2 (Karen Bowes Shield): Carlisle Aquatics

'A' Final Winner (Hoad Monument Trophy): Carlisle Aquatics

'B' Final Winner (Alex Hannah Memorial Shield): Copeland
___________________________________________________________________________________________________________________________

2018 DIDDY LEAGUE

 
ROUND 1

Saturday March 24th

Round 1
| | | | |
| --- | --- | --- | --- |
| | Gala Points | League Points for the Round | |
| Kendal | 255 | 9 | |
| Carlisle Aquatics | 233 | 8 | |
| Carnforth | 229 | 7 | |
| Cockermouth | 226 | 6 | |
| Ulverston | 196 | 5 | |
| Barrow | 170 | 4 | |
| Copeland | 164 | 3 | |
| Penrith | 151 | 2 | |
| Workington | 102 | 1 | |
Round 2

Saturday May 12th
| | | |
| --- | --- | --- |
| | Gala Points | League Points for the Round |
| Kendal | 253 | 8.5 |
| Carnforth | 253 | 8.5 |
| Carlisle Aquatics | 238 | 7 |
| Ulverston | 221 | 6 |
| Barrow | 198 | 5 |
| Cockermouth | 182 | 4 |
| Copeland | 157 | 3 |
| Penrith | 143 | 2 |
| Workington | 88 | 1 |
League Table after Round 2
| | |
| --- | --- |
| | League Points |
| Kendal | 17.5 |
| Carnforth | 15.5 |
| Carlisle Aquatics | 15 |
| Ulverston | 11 |
| Cockermouth | 10 |
| Barrow | 9 |
| Copeland | 6 |
| Penrith | 4 |
| Workington | 2 |
Grand Final
Sunday June 17th, Workington  
| | |
| --- | --- |
| | Gala Points |
| Kendal | 221 |
| Carlisle Aquatics | 205 |
| Carnforth | 198 |
| Ulverston | 182 |
| Cockermouth | 181 |
| Barrow | 170 |
| Copeland | 123 |
| Penrith | 113 |
| | |
Award Winners 2018
Most points after Round 2 (Karen Bowes Shield): Kendal

Final Winner (Hoad Monument Trophy): Kendal

2nd place in Final (Tommy Messenger Trophy): Carlisle Aquatics

3rd place in Final (Alex Hannah Memorial Shield): Carnforth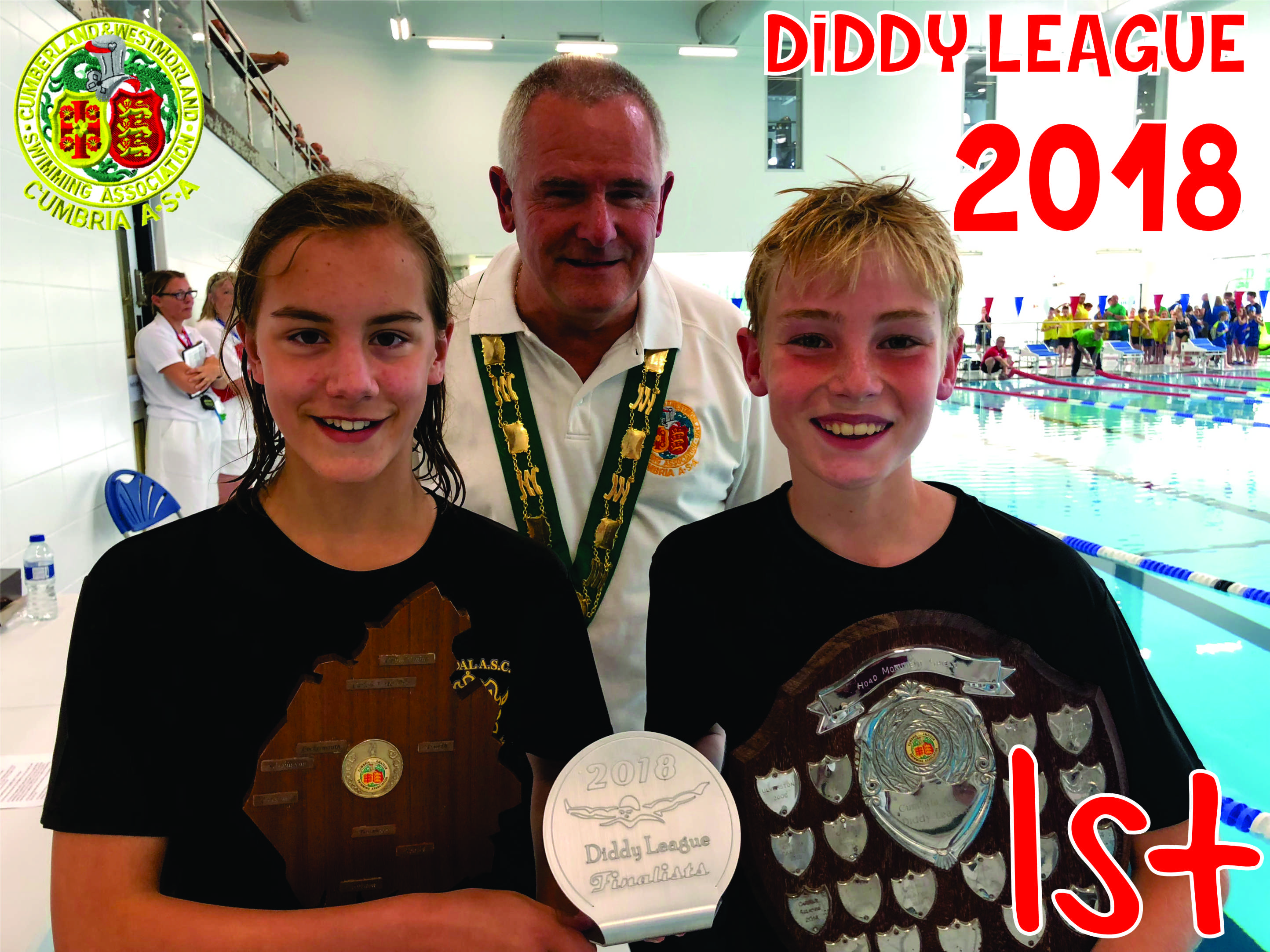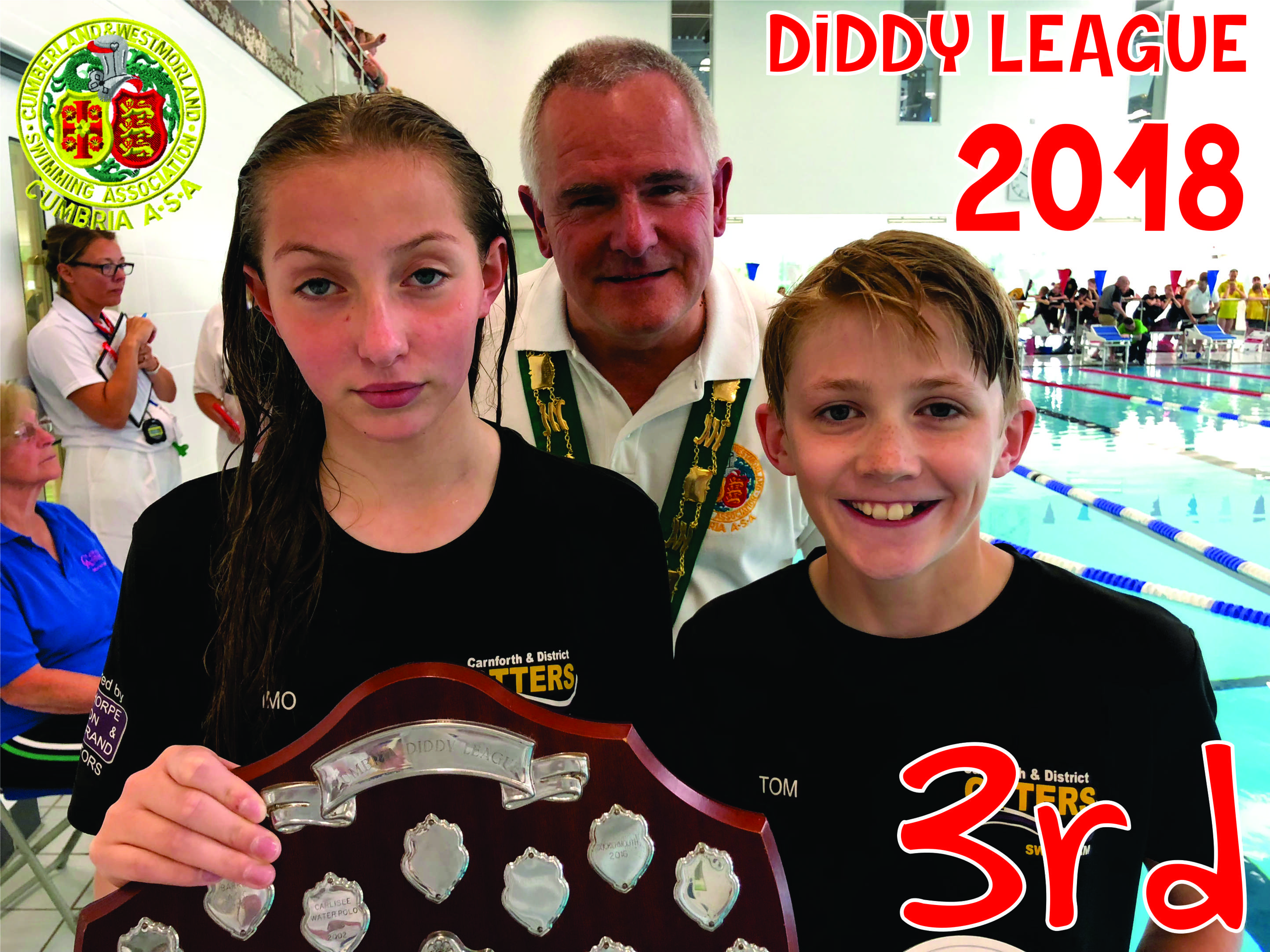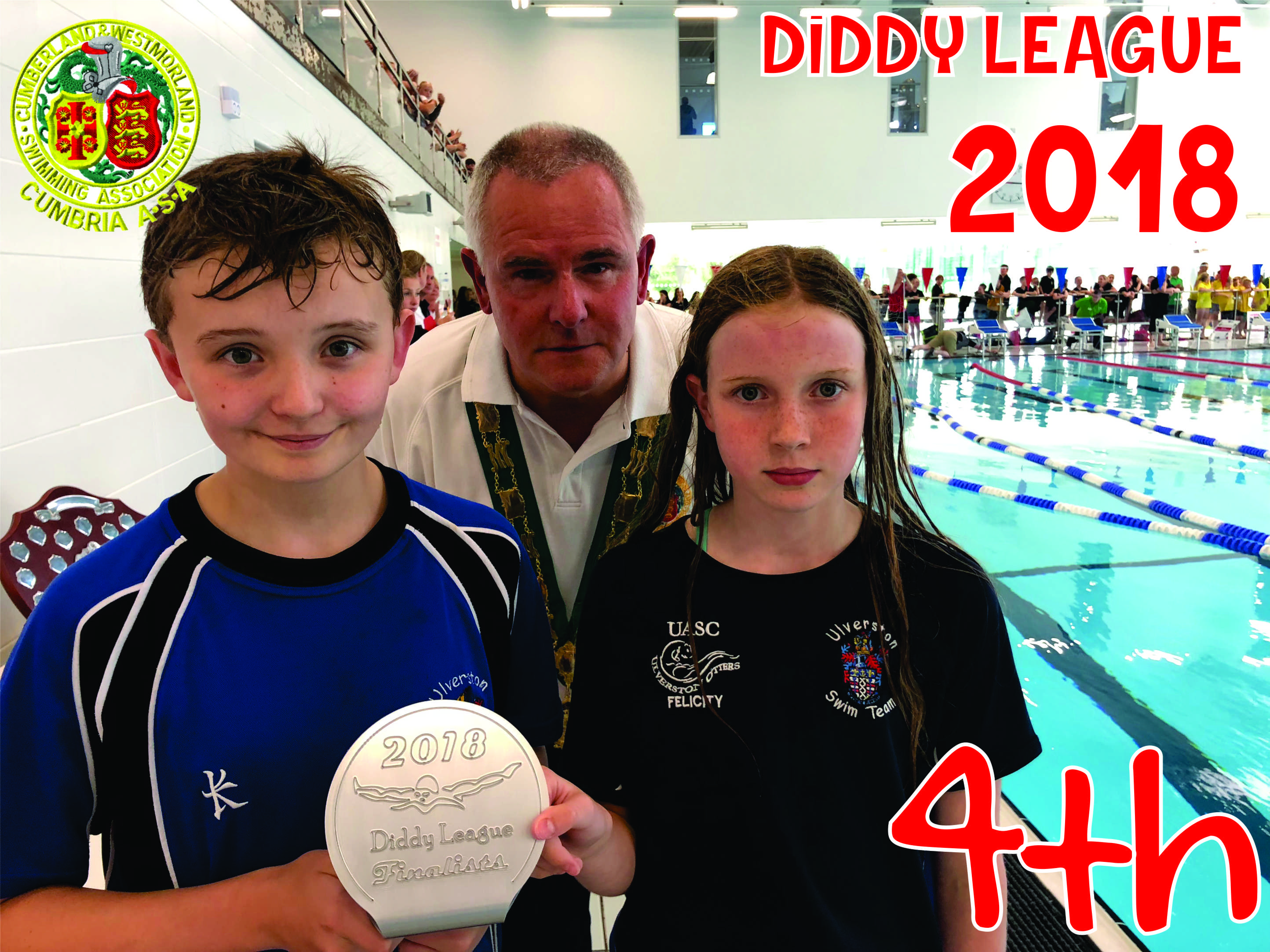 Kendal Carlisle Aquatics Carnforth Ulverston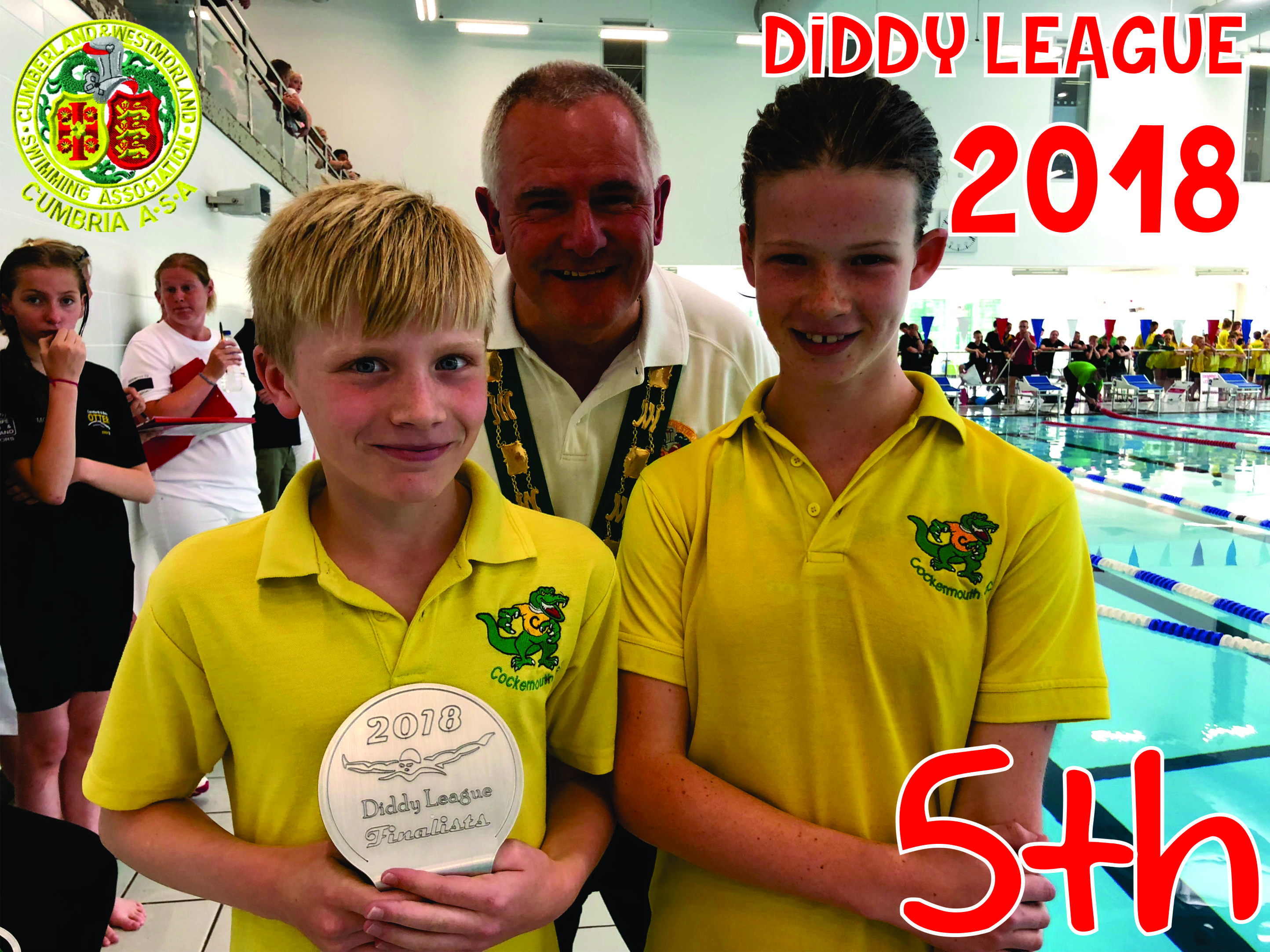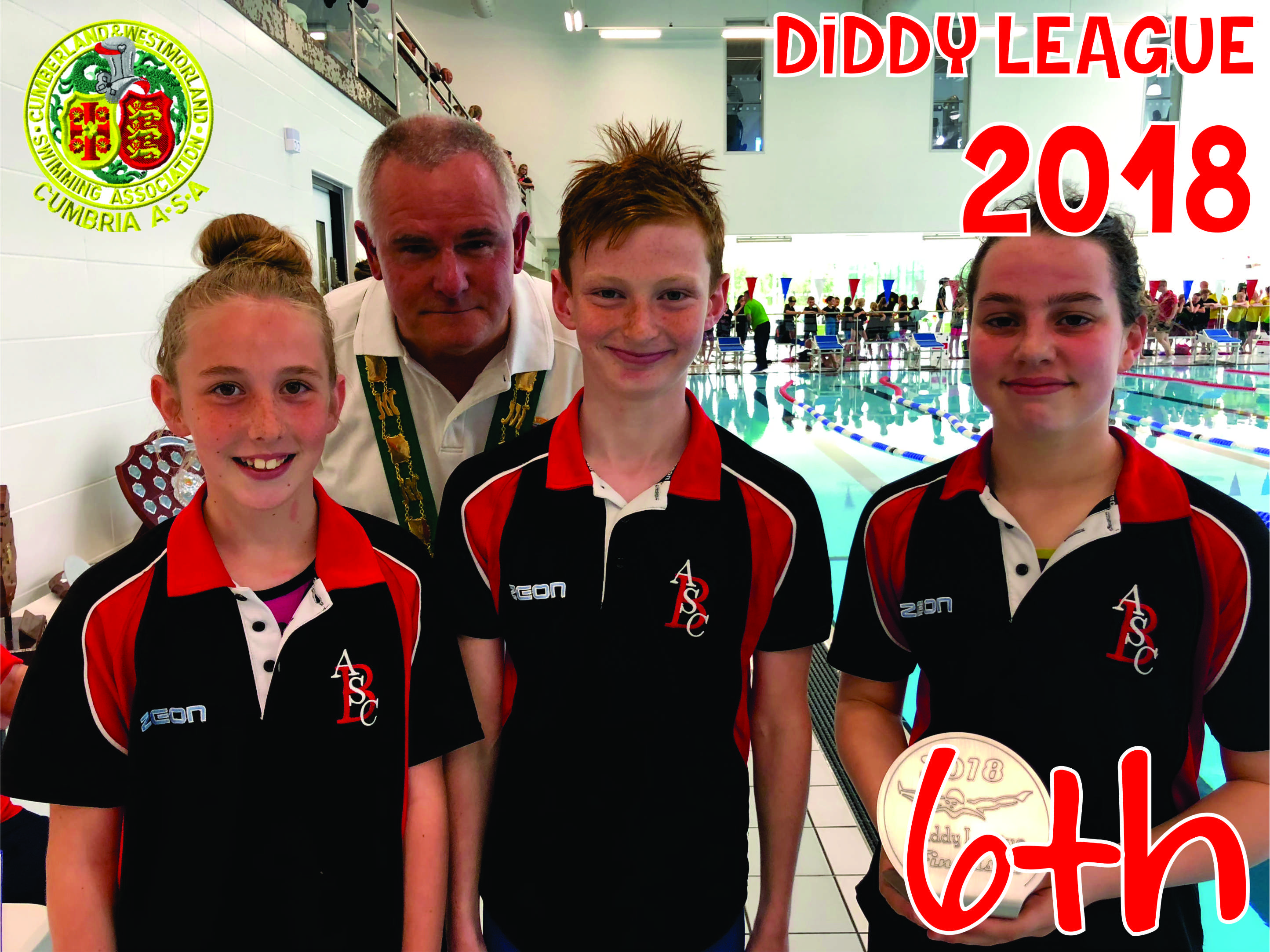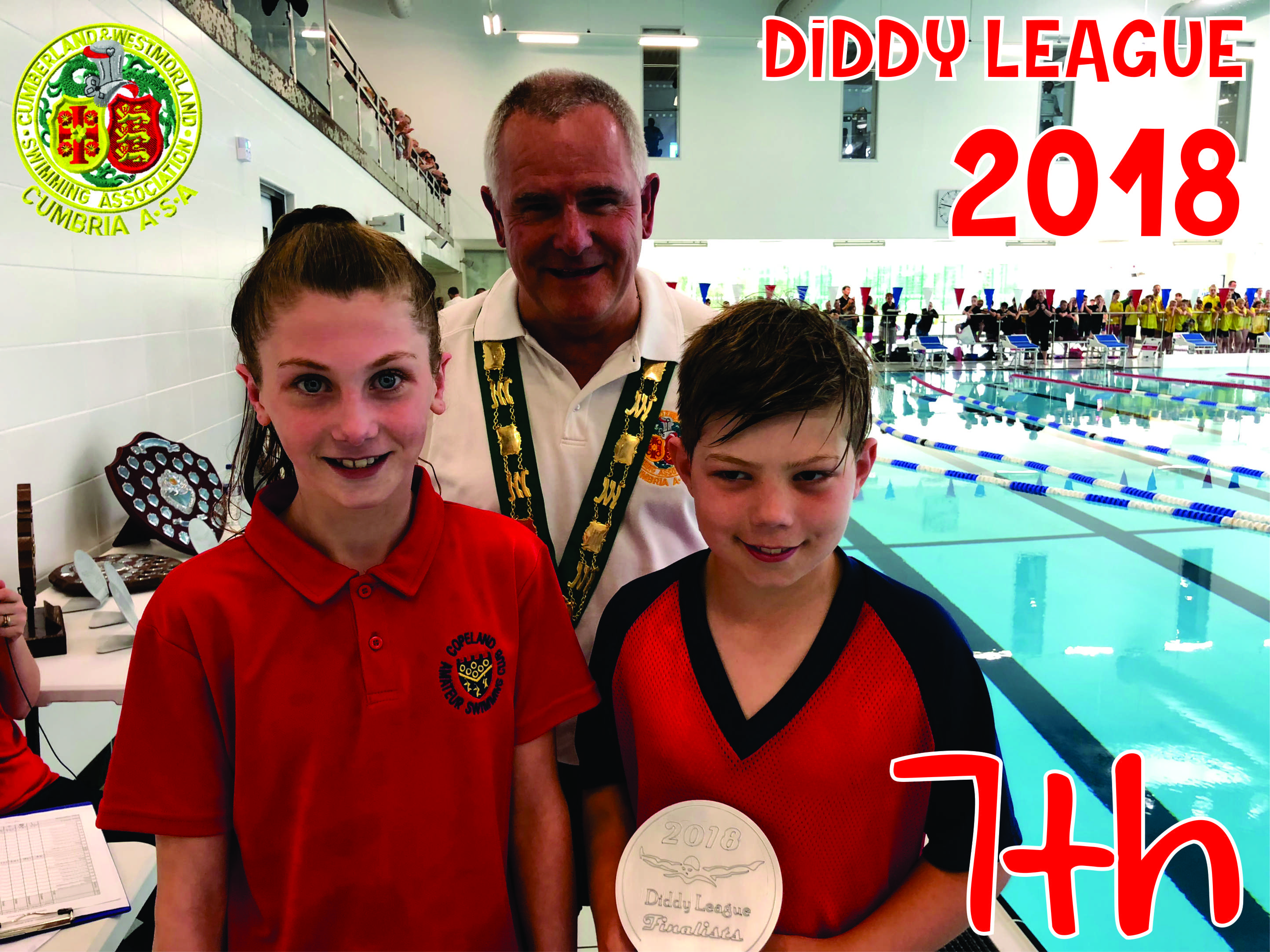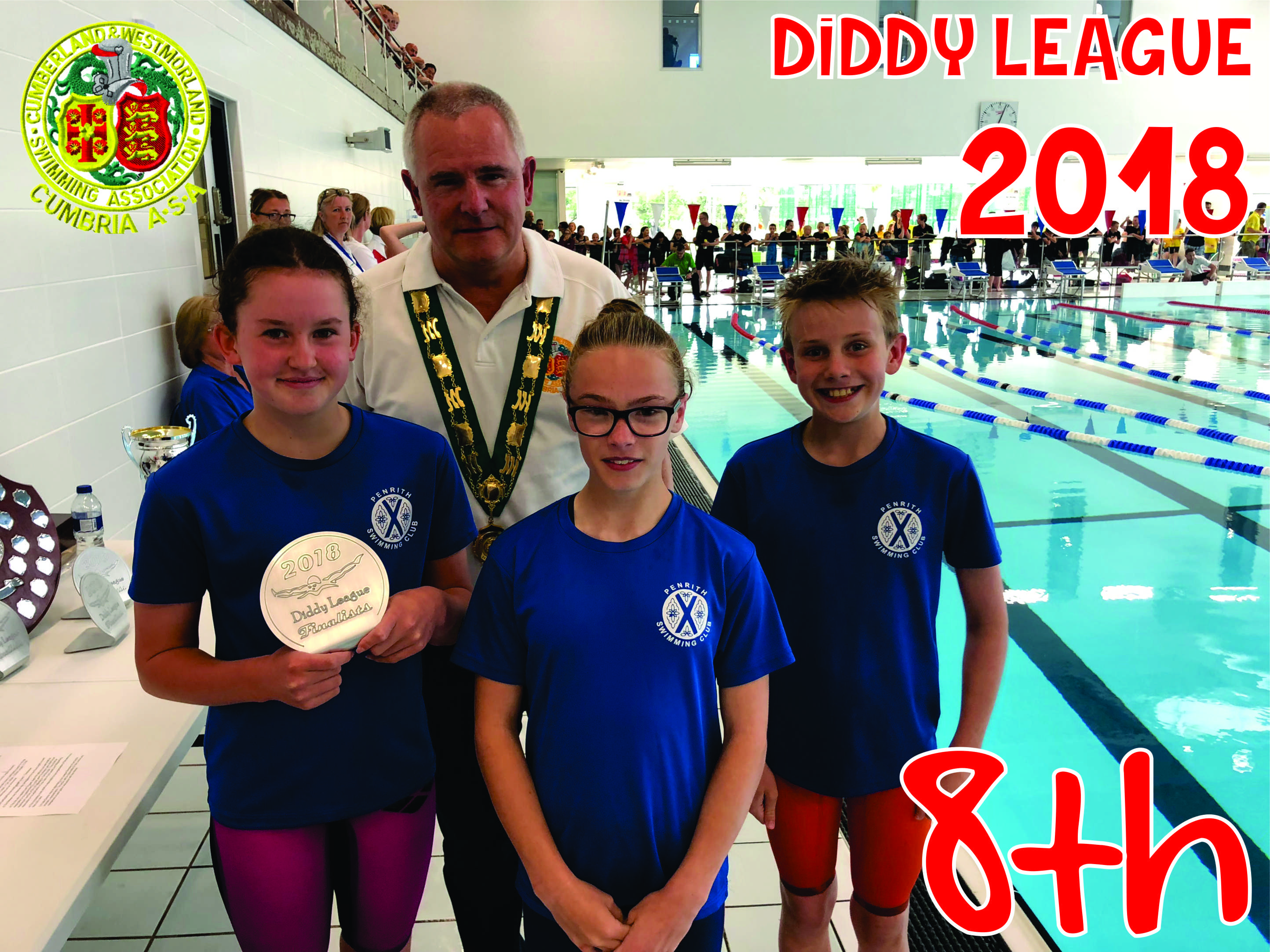 Cockermouth Barrow Copeland Penrith

_____________________________________________________________________________________________________________________


2017 DIDDY LEAGUE




ROUND 1

Saturday April 1st

Copeland warm up 2.30pm
 
Lane
League
Points
League
Score
Workington
2
89
1
Copeland
3
142
3
Cockermouth
4
134
2
Carlisle Aquatics
5
189
6

Kendal warm up 3.15pm

 
Lane
League
Points
League
Score
Barrow
2
188
5
Penrith
3
142
3
Kendal
4
224
7
Ulverston
5
231
8
League Table after Round 1
Points
Ulverston
8
Kendal
7
Carlisle Aquatics
6
Barrow
5
Penrith
3
Copeland
3
Cockermouth
2
Workington
1


ROUND 2

Saturday May 13th

Carlisle warm up 2.45pm
 
Lane
League
Points
League
Score
Copeland
2
139
3
Ulverston
3
230
7
Carlisle Aquatics
4
220
6
Cockermouth
5
143
4


Penrith warm up 3.45pm
 
Lane
League
Points
League
Score
Workington
1
94
1
Barrow
2
176
5
Kendal
3
239
8
Penrith
4
128
2
League Table after Round 2
Points
Ulverston
15
Kendal
15
Carlisle Aquatics
12
Barrow
10
Copeland
6
Cockermouth
6
Penrith
5
Workington
2


Grand Final

Sunday June 18th

Workington warm up 3.00pm
 
Lane
Gala
Points
League
Score
Penrith
1
127
2
Cockermouth
2
140
3
Carlisle Aquatics
3
180
6
Ulverston
4
243
7
Kendal
5
253
8
Barrow
6
178
5
Copeland
7
153
4
Workington
8
97
1
League Table after Round 3
Points
Kendal
23
Ulverston
22
Carlisle Aquatics
18
Barrow
15
Copeland
10
Cockermouth
9
Penrith
7
Workington
3

Award Winners 2017

Most points after Round 2 (Karen Bowes Shield): Ulverston

Final Winner (Hoad Monument Trophy): Kendal

2nd place in Final (Tommy Messenger Trophy): Ulverston

3rd pace in Final (Alex Hannah Memorial Shield): Barrow


_______________________________________________________________________________________________________________________________

 

2016 DIDDY LEAGUE
 

ROUND 1

April 23rd

Penrith  
Lane
Gala
Points
League
Points
Penrith
2
79
147
Kendal
3
103
202
Barrow
4
120
231
Ulverston
5
111
212
Carlisle
Lane
Gala
Points
League
Points
Cockermouth
2
109
196
Copeland
3
90
149
Workington
4
75
132
Carlisle Aq
5
123
218
League Table after Round 1
Barrow
8
Carlisle Aq
7
Ulverston
6
Kendal
5
Cockermouth
4
Copeland
3
Penrith
2
Workington
1
ROUND 2
May 14th
Kendal
Lane
Gala
Points
League
Points
Cockermouth
2
93
182
Barrow
3
133
267
Ulverston
4
102
206
Penrith
5
82
160
Carlisle
Lane
Gala
Points
League
Points
Copeland
2
82
128
Carlisle Aq
3
126
231
Kendal
4
126
208
Workington
5
71
111
League Table after Round 2
| | |
| --- | --- |
| Barrow | 16 |
| Carlisle Aq | 14 |
| Ulverston | 11 |
| Kendal | 11 |
| Cockermouth | 8 |
| Copeland | 5 |
| Penrith | 5 |
| Workington | 2 |
ROUND 3
June 16th
Penrith
Lane
Gala
Points
League
Points
Kendal

1

108

225

Barrow

2

114

238

Carlisle Aq

3

120

245

Ulverston

4

79
170
Carlisle
Lane
Gala
Points
League
Points
Penrith
2
98
159
Cockermouth
3
116
203
Copeland
4
96
132
Workington
5
74
112
League Table after Round 3
| | |
| --- | --- |
| Barrow | 23 |
| Carlisle Aq | 22 |
| Kendal | 17 |
| Ulverston | 15 |
| Cockermouth | 13 |
| Penrith | 8 |
| Copeland | 7 |
| Workington | 3 |
| | |
GRAND FINAL
October 2nd: Venue - Workington
Points
| | |
| --- | --- |
| Carlisle Aq | 190 |
| Barrow | 161 |
| Ulverston | 156 |
| Kendal | 150 |
| Cockermouth | 136 |
| Penrith | 82 |


 

 
League Winners (Karen Bowes Shield): Barrow
Grand Final Winner (Hoad Monument Trophy): Carlisle Aquatics
'A' Final winner (Tommy Messenger Trophy): Carlisle Aquatics
'B' Final winner (Alex Hannah Memorial Shield): Cockermouth
___________________________________________________________________________________________________________
2015 DIDDY LEAGUE
ROUND 1
April 15th
Penrith
Lane
Gala
Points
League
Points
Barrow
2
149
267
Kendal
3
93
174
Ulverston
4
119
234
Penrith
5
59
96
Workington
Lane
Gala
Points
League
Points
Carlisle Aq
2
143
264
Cockermouth
3
93
179
Copeland
4
93
170
Workington
5
78
135
League Table after Round 1
Barrow
8
Carlisle Aq
7
Ulverston
6
Cockermouth
5
Kendal
4
Copeland
3
Workington
2
Penrith
1
ROUND 2
May 15th
Kendal
Lane
Gala
Points
League
Points
Kendal
2
92
176
Barrow
3
125
240
Ulverston
4
120
229
Workington
5
61
120
Workington
Lane
Gala
Points
League
Points
Copeland
2
106
185
Carlisle Aq
3
131
239
Cockermouth
4
100
170
Penrith
5
62
99
League Table after Round 2
| | |
| --- | --- |
| Barrow | 16 |
| Carlisle Aq | 14 |
| Ulverston | 12 |
| Cockermouth | 8 |
| Kendal | 8 |
| Copeland | 8 |
| Workington | 4 |
| Penrith | 2 |
ROUND 3
June 15th
Penrith (A final)
Lane
Gala
Points
League
Points
Ulverston
2
93
205
Barrow
3
126
256
Carlisle Aq
4
108
235
Cockermouth
5
81
164
Workington
(B final)
Lane
Gala
Points
League
Points
Workington
2
100
156
Copeland
3
132
206
Kendal
4
116
186
Penrith
5
66
108
League Table after Round 3
| | |
| --- | --- |
| Barrow | 24 |
| Carlisle Aq | 21 |
| Ulverston | 17 |
| Copeland | 14 |
| Kendal | 12 |
| Cockermouth | 11 |
| Workington | 6 |
| Penrith | 3 |
| | |
GRAND FINAL
October 4th: Venue - Carlisle  

Points

 
Carlisle Aq
1
197
Barrow
2
186
Ulverston
3
145
Copeland
4
140
Cockermouth
Kendal
5
6
132
109

 
League Winners (Karen Bowes Shield): Barrow
Grand Final Winner (Hoad Monument Trophy): Carlisle Aquatics
'A' Final winner (Tommy Messenger Trophy): Barrow
'B' Final winner (Alex Hannah Memorial Shield): Copeland
_________________________________________________________________________________________________________
2014 DIDDY LEAGUE
ROUND 1
April 26th
Kendal
Lane
Gala
Points

League
Points
Barrow
2
98
167
Kendal
3
99
158
Ulverston
4
122
218
Penrith
5
83
137
Workington
Lane
Gala
Points

League
Points
Carlisle Aquatics
2
144
281
Cockermouth
3
73
155
Copeland
4
84
157
Workington
5
102
198
League Table after Round 1
Carlisle Aquatics
8
Ulverston
7
Workington
6
Kendal
5
Barrow
4
Copeland
3
Cockermouth
2
Penrith
1
ROUND 2
May 17th
Penrith
Lane
Gala
Points

League
Points
Copeland
2
81
155
Ulverston
3
134
252
Barrow
4
109
201
Penrith
5
92
164
Workington
Lane
Gala
Points

League
Points
Kendal
2
107
184
Carlisle Aquatics
3
135
268
Workington
4
121
223
Cockermouth
5
DNS
0
League Table after Round 2
| | |
| --- | --- |
| Carlisle Aquatics | 16 |
| Ulverston | 14 |
| Workington | 12 |
| Barrow | 10 |
| Kendal | 8 |
| Copeland | 5 |
| Penrith | 4 |
| Cockermouth | 2 |
ROUND 3
June 21st:
Kendal
(B final)
Lane
Gala
Points

League
Points
Penrith
2
98
154
Kendal
3
126
198
Copeland
4
84
114
Cockermouth
5
104
171
Workington
(A final)
Lane
Gala
Points

League
Points
Workington
2
102
218
Carlisle Aquatics
3
131
265
Ulverston
4
101
213
Barrow
5
86
180
League Table after Round 3
| | |
| --- | --- |
| Carlisle Aquatics | 24 |
| Ulverston | 20 |
| Workington | 19 |
| Barrow | 14 |
| Kendal | 13 |
| Penrith | 6 * |
| Copeland | 6 |
| Cockermouth | 5 |
| * After 1st and 2nd place countback | |
GRAND FINAL
October 5th: Venue - Carlisle
Lane
Gala
Points

Position
 
Kendal
1
111
5
Workington
2
169
3
Carlisle Aquatics
3
221
1
Ulverston
4
171
2
Barrow
5
145
 
4
 
Penrith
6
86
6
League Winners (Karen Bowes Shield): Carlisle Aquatics
Grand Final Winner (Hoad Monument Trophy):

Carlisle Aquatics


'A' Final winner (Tommy Messenger Trophy): Carlisle Aquatics
'B' Final winner (Alex Hannah Memorial Shield): Kendal

_____________________________________________________________________________________________________________
2013 DIDDY LEAGUE
ROUND 1
April 27
Kendal

Lane
Gala
Points

League
Points
1
Kendal
2
175
3
Barrow
3
199
5
Penrith
4
57
1
Ulverston
5
214
6
.
6
Workington
Lane
Gala
Points
League
points
.
1
Workington
2
192
4
Carlisle Aquatics
3
273
8
Cockermouth
4
139
2
Copeland
5
269
7
6
League Table after Round 1
Points after
Round 1
Carlisle Aquatics
8
Copeland
7
Ulverston
6
Barrow
5
Workington
4
Kendal
3
Cockermouth
2
Penrith
1
ROUND 2
May 18
Kendal
| | | | |
| --- | --- | --- | --- |
| | Lane | Gala Points | League Points |
| | 1 | | |
| Kendal | 2 | 164 | 3 |
| Copeland | 3 | 297 | 8 |
| Barrow | 4 | 202 | 5 |
| Penrith | 5 | 78 | 1 |
| | 6 | | |
Workington
| | | | |
| --- | --- | --- | --- |
| | Lane | Gala Points | League Points |
| . | 1 | | |
| Workington | 2 | 175 | 4 |
| Carlisle Aquatics | 3 | 246 | 7 |
| Ulverston | 4 | 204 | 6 |
| Cockermouth | 5 | 124 | 2 |
| | 6 | | |
League Table after Round 2
Points after
Round 1
Round 2
Total
Copeland
8
7
15*
Carlisle Aquatics
7
8
15
Ulverston
6
6
12
Barrow
5
5
10
Workington
4
4
8
Kendal
3
3
6
Cockermouth
2
2
4
Penrith
1
1
2
* On 1st place countback
ROUND 3
June 22
Kendal
| | | | |
| --- | --- | --- | --- |
| | Lane | Gala Points | League Points |
| | 1 | | |
| Ulverston | 2 | 233 | 6 |
| Copeland | 3 | 235 | 7 |
| Carlisle Aquatics | 4 | 282 | 8 |
| Barrow | 5 | 207 | 5 |
Workington
| | | | |
| --- | --- | --- | --- |
| | Lane | Gala Points | League Points |
| . | 1 | | |
| Cockermouth | 2 | 127 | 2 |
| Workington | 3 | 197 | 4 |
| Kendal | 4 | 149 | 3 |
| Penrith | 5 | 75 | 1 |
| | 6 | | |
League Table after Round 3
Points after
Round 1
Round 2
Round 3
Total
Carlisle Aquatics
7
8
8
23
Copeland
8
7
7
22
Ulverston
6
6
6
18
Barrow
5
5
5
15
Workington
4
4
4
12
Kendal
3
3
3
9
Cockermouth
2
2
2
6
Penrith
1
1
1
3
2013 GRAND FINAL RESULT
| | | |
| --- | --- | --- |
| Carlisle Aquatics | | 228 |
| Copeland | | 184 |
| Ulverston | | 154 |
| Workington | | 123 |
| Barrow | | 121 |
| Kendal | | 101 |
League Winners (Karen Bowes Shield): Carlisle Aquatics
Grand Final Winner (Hoad Monument Trophy): Carlisle Aquatics
'A' Final winner (Tommy Messenger Trophy): Carlisle Aquatics
'B' Final winner (Alex Hannah Memorial Shield): Workington