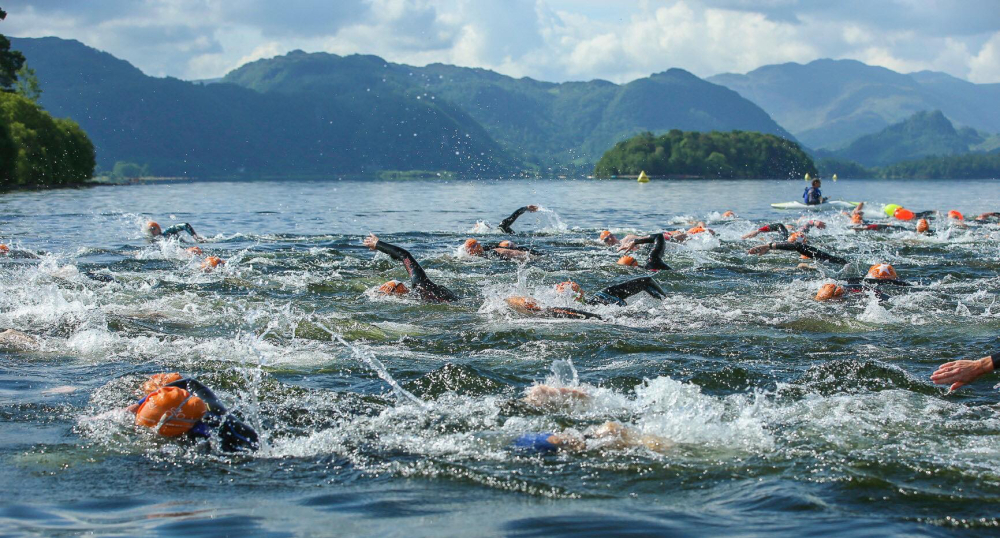 Welcome to your 2021 Open Water swimming page
As we all know most of 2020 was a horrendous year in so many ways. It was made even worse for competitive swimmers with pools being closed for months and competitions being cancelled. However one group of Cumbrian club swimmers took up the challenge of the Cumbria Open Water League (COWL) in its second season.
Epic Events worked hard to make their swim series as safe as possible whilst following strict government guidance. We are glad to announce that they will again host the COWL in 2021 for its third season.
ENTRIES ARE NOW OPEN.
Last year we asked two simple questions:
Have you ever thought about pushing your swimming boundaries beyond the confines of a chlorinated pool?

Have you ever wanted to experience the freedom of swimming without lanes?
From what we saw on facebook and down by the lakeside, the answer for a lot of you was YES.
Throughout the summer we saw an ever increasing number of dedicated swimmers taking to the open water, some for the first time ever, so they could return to the sport they love in some way.
This year we are hoping more of you will take this new found swimming experience to a competitive level and enter COWL 2021, Regional & National open water events.
We are so fortunate to live in the most stunning place in Great Britain…The English Lake District. We have the greatest opportunities for experiencing open water swimming right on our door step. Our lakes include the longest lake in England, the deepest lake; nestled at the foot of the highest mountain in England, the setting for the famous Swallows and Amazons adventure story and of course the settings for Donald Cambell's world water speed records during the 1950s and 1960s.
Why not add open water swimming to your life story and enter COWL 2021.
Remember…there are County Championship medals to be won.
Below you will find links to the COWL, advice on open water swimming and safety, links to Swim England and Swim Northwest openwater events and
links to other fantastic events in and around our county.
 
Cumbria Open Water League - 2021
Our friends over at Epic Events have again agreed to host the COWL for its third season.
Although there remains a lot of uncertainty around competitive swimming throughout 2021, open water swimming organisations are launching their events already. As we saw last season, places in these events are limited and did fill up quickly once the world began to return to some form of normality.
ENTRIES ARE NOW OPEN so do not think about it for too long and definitely do not wait until a couple of weeks before the event to try and enter...entries sell out fast!
The League will follow the exact same format as last season. There are four races, of which you must compete in at least two to qualify for a League position. A points system will be used again this season where by each COWL competitor will be awarded points based on their time compared with the 1st COWL swimmer to cross the finish line. Your best two swims will be combined to give your final League position.
The age groups and distances will remain as last season, which are:
• 11 years to 13 Years – 500m
• 14 years and 15 years – 1 mile
• 16 years and over – 1 mile
For the 2021 COWL entry conditionsclick here. It is important that every competitor and their parent/guardian (if under 18) read the COWL entry conditions, COWL Risk assessment and the Epic Event Terms & Conditions

Full details of the entry conditions for the four races are:
Coniston – Aug 15th https://epicevents.co.uk/epic-lakes-swim-coniston/
Windemere – Sept 18th https://epicevents.co.uk/epic-lakes-swim-windermere/
_____________________________________________________________________________

Other Interesting events to think about
Sleeker Swim
Sleekerswim are based in Windemere and organise a couple of interesting events for the over 16s plus offer a range of introduction and coaching sessions by their highly accomplished and experienced coaching team.
https://www.sleekerswim.co.uk/event/summer-solstice-starlight-swim-2020/
Chill Swim
Offer two fantastic challenges for those wanting to move towards marathon swimming by swimming the length of England's second and third longest lakes…Ullswater and Coniston
Chill Swim – Length of Coniston – 5 miles End to End – Sat 4th Sept
https://chillswim.com/chillswim-coniston-5-25-miles-end-to-end/
Both these event are a great day out and whilst some may consider it expensive, the support put in place plus the entry goody bags make it all worthwhile. It is a great event to start the step up towards marathon swimming.

This event is for 16+yrs and has a mandatory tow float requirement for every swimmer. A tow float will need to be purchased before the event.

________________________________________________________________________________________________________________________________________
Openwater safety
 
Before everyone goes and jumps in the nearest puddle please follow the links and read up on openwater safety, impacts to the environment and potential hazards to health. It is important;
https://www.rlss.org.uk/open-water-safety
https://outdoorswimmer.com/open-water-safety
https://www.lakedistrict.gov.uk/visiting/thingstodo/water/swimming

Biosecurity – Invasive non-native species
It is important to recognise the impact on the environment and local ecology that open water swimming can have. There is growing concern over the number, abundance and spread of freshwater invasive non-native species (FINNS), both plants and animals throughout the UK. FINNS are spread by people and equipment moving from one open water venue to another without proper care and cleaning of their equipment. Once transferred to another habitat the damage caused by a FINN can be devastating for the local ecology.
Follow this simple three step plan after every swim
Check and clean your wetsuit, clothing and equipment ON SITE of any animals and plant fragments.

Don't take anything away with you!

Dry your clothing and equipment thoroughly before visiting your next venue. Some species can survive a long time in damp conditions.
https://www.lakedistrict.gov.uk/caringfor/policies/alien-2
http://cfinns.scrt.co.uk/biosecurity/

Blue-Green Algae
Blue-Green Algae are a fresh water algae present in our lakes. During warm summer weather conditions these algae can bloom which then make them toxic and dangerous to pets, wild life and people.
Blue-green algae can cause rashes after skin contact and illnesses including skin rashes, eye irritation, vomiting, diarrhoea, fever and muscle and joint pain in people who've swallowed or swam through algal scum. These haven't led to long-term effects or death but, in some cases, the illnesses can be severe.
Not all blue-green algae blooms and scums are toxic, but you can't tell just by looking at them, so it's best to assume they are. Although algal scum isn't always harmful, avoid contact with it and the water close to it.
Over the summer of 2018 there were four lakes affected by the Algae with public health warnings issued by the EA.
Before planning an open water please check the following websites for information.

https://www.gov.uk/government/news/blue-green-algae-remains-present-in-four-lake-district-locations
https://www.lakedistrict.gov.uk/caringfor/policies/algae

https://www.nationaltrust.org.uk/fell-foot/features/blue-green-algae-risks
During 2018 and 2019 the Environment Agency notified the National Trust of Blue Green Algae blooms in Windermere, Ullswater and Derwent Water. Once the National Trust get those notifications signs are put up at key access points to the lakes to keep people informed, these signs stay in place until the Environment Agency advise that the bloom has cleared.
PLEASE CHECK THESE WEBSITES FOR INFORMATION REGARDING THE STATUS OF THE LAKES BEFORE EMBARKING ON ANY FORM OF OPEN WATER SWIMMING.
___________________________________________________________________________________________________
Outdoor swimming and mental health
There is a lot of anecdotal evidence that outdoor swimming is good for your mental health. We'd like to share three articles that explore the link between outdoor swimming and mental health in more detail.
________________________________________________________________________________________________________
 
Cumbria Open Water League Table 2020
 
FINAL LEAGUE TABLE
 
11 - 13 Years Age Group - 500m

Final
League Position
Swimmer
Club
Coniston
Points awarded
Ullswater
Points awarded
Windemere
Points awarded
Points awarded for best two swims

Girls 11-13

1
Olivia O'Mahony
Cockermouth
07:15
100.000
08:10
100.000
07:29
100.000
200.000
2
Iona Robinson
Cockermouth
DNS
0.000
08:34
95.331
07:49
95.736
191.067
3
Millie Sandham
Workington
07:47
93.148
DNS
0.000
08:04
92.769
185.917
4
Emma Duxbury
Kendal
08:51
81.921
09:26
86.572
09:25
79.469
168.493
5
Isabelle Wall-Budden
Kendal
09:17
78.097
10:19
79.160
DNS
0.000
157.257
6
Evie-Rose Sugden
Penrith
09:36
75.521
10:11
80.196
DNS
0.000
155.717
7
Charlotte Stainer
Kendal
DNS
0.000
10:43
76.205
09:42
77.148
153.353
8
Penny Henderson
Penrith
09:26
76.855
10:44
76.087
10:52
68.865
152.942
9
Isabella Armstrong
Barrow
DNS
0.000
10:48
75.167
10:24
71.955
147.122
10
Lea Glencross
Carlisle
09:35
75.652
11:50
69.014
12:00
63.361
144.666
11
Rosa Henderson
Penrith
13:53
52.221
15:32
52.575
15:18
48.911
104.796
Final
League Position

Boys 11-13

Points awarded for best two swims
1
Max Henderson
Cockermouth
07:01
100.000
07:49
100.000
07:48
95.726
200.000
2
Jackson Jardine
Copeland
DNS
0.000
07:50
99.787
07:28
100.000
199.787
3
Oliver Dyson
Cockermouth
DNS
0.000
08:13
95.132
07:50
95.319
190.451
4
Evan Dart
Kendal
07:57
88.620
DNS
0.000
08:48
84.848
173.468
5
Nathan Caine
Ulverston
08:03
87.164
09:52
79.223
09:05
82.202
169.366
6
Campbell Sutton
Copeland
09:11
76.407
09:56
78.691
10:12
73.203
155.098
14 - 15 Years Age Group - 1 Mile

Final
League Position
Swimmer
Club
Coniston
Points awarded
Ullswater
Points awarded
Windemere
Points awarded
Points awarded for best two swims

Girls 14/15

1
Anna Dootson
Cockermouth
21:06
100.000
20:59
100.000
DNS
0.000
200.000
2
Macy Dootson
Cockermouth
22:01
95.836
21:41
96.772
DNS
0.000
192.608
3
Millie Bell
Carlisle
22:07
95.403
22:51
91.831
DNS
0.000
187.234
4
Elodie Malcolm
Kendal
25:35
82.476
24:48
84.610
DNS
0.000
167.086
Final
League Position

Boys 14/15

Points awarded for best two swims
1
Toby Patton
Copeland
23:52
100.000
24:30
100.000
29:04
98.222
200.000
2
Max Ainsworth
Kendal
25:19
94.273
27:16
89.853
28:33
100.000
194.273
16 + Years Age Group - 1 Mile

Final
League Position
Swimmer
Club
Coniston
Points awarded
Ullswater
Points awarded
Windemere
Points awarded
Points awarded for best two swims

Girls / Ladies 16+

1
Rebecca Amor
Copeland
21:31
100.000
22:10
100.000
25:09
100.000
200.000
2
Shannon Parker
Ulverston
25:30
84.379
26:17
84.337
29:10
86.229
170.608
Final
League Position

Boys / Men 16+

Points awarded for best two swims
1
Kes Fountain
Carlisle
22:17
100.000
21:30
100.000
DNS
0.000
200.000
2
James Amor
Copeland
22:22
99.627
23:40
90.845
26:29
100.000
199.627
_______________________________________________

ROUND 3 - Windermere Race Results

11 – 13 Years Age Group

14-15 Years Age Group
 



16+ / Open Age Group





ROUND 2 - Ullswater Race Results

11 – 13 Years Age Group
 
Round 2 - Ullswater Race results

Girls

Race
position

Swimmer

Club

Ullswater Time

Points awarded

1

Olivia O'Mahony

Cockermouth

08:10

100.000

2

Iona Robinson

Cockermouth

08:34

95.331

3

Emma Duxbury

Kendal

09:26

86.572

4

Evie-Rose Sugden

Penrith

10:11

80.196

5

Isabelle Wall-Budden

Kendal

10:19

79.160

6

Charlotte Stainer

Kendal

10:43

76.205

7

Penny Henderson

Penrith

10:44

76.087

8

Isabella Armstrong

Barrow

10:48

75.167

9

Lea Glencross

Carlisle

11:50

69.014

10

Rosa Henderson

Penrith

15:32

52.575
Round 2 - Ullswater Race results

Boys

Race
position

Swimmer

Club

Ullswater Time

Points awarded

1

Max Henderson

Cockermouth

07:49

100.000

2

Jackson Jardine

Copeland

07:50

99.787

3

Oliver Dyson

Cockermouth

08:13

95.132

4

Nathan Caine

Ulverston

09:52

79.223

5

Campbell Sutton

Copeland

09:56

78.691

14-15 Years Age Group
Round 2 - Ullswater Race results

Girls

Race
position

Swimmer

Club

Ullswater Time

Points awarded

1

Anna Dootson

Cockermouth

20:59

100.000

2

Macy Dootson

Cockermouth

21:41

96.772

3

Millie Bell

Carlisle

22:51

91.831

4

Elodie Malcolm

Kendal

22:48

92.032
Round 2 - Ullswater Race results

Boys

Race
position

Swimmer

Club

Ullswater Time

Points awarded

1

Toby Patton

Copeland

24:30

100.000

2

Max Ainsworth

Kendal

27:13

90.018
16+ / Open Age Group
Round 2 - Ullswater Race results

Girls / Ladies

Race
position

Swimmer

Club

Ullswater Time

Points awarded

1

Rebecca Amor

Copeland

22:10

100.000

2

Shannon Parker

Ulverston

26:17

84.337
Round 2 - Ullswater Race results

Boys / Men

Race
position

Swimmer

Club

Ullswater Time

Points awarded

1

Kes Fountain

Carlisle

21:30

100.000

2

James Amor

Copeland

23:40

90.845


ROUND 1 - Coniston Race Results
11 - 13 Years Age Group - 500m

League Position

Swimmer

Club

Coniston

Ullswater

Windermere

Points awarded after Round 1

Girls

1

Olivia O'Mahony

Cockermouth

07:15

√

100.000

2

Millie Sandham

Workington

07:47

NE

93.148

3

Emma Duxbury

Kendal

08:51

√

81.921

4

Isabelle Wall-Budden

Kendal

09:17

√

78.097

5

Penny Henderson

Penrith

09:26

√

76.855

6

Lea Glencross

Carlisle

09:35

√

75.652

7

Evie-Rose Sugden

Penrith

09:36

√

75.521

8

Rosa Henderson

Penrith

13:53

√

52.221

9

Isabella Armstrong

Barrow

DNS

√

0.000

10

Charlotte Stainer

Kendal

DNS

√

0.000

11

Iona Robinson

Cockermouth

DNS

√

0.000

Boys

1

Max Henderson

Cockermouth

07:01

√

100.000

2

Evan Dart

Kendal

07:57

√

88.620

3

Nathan Caine

Ulverston

08:03

√

87.164

4

Campbell Sutton

Copeland

09:11

√

76.407

5

Oliver Dyson

Cockermouth

DNS

√

0.000

6

Jackson Jardine

Copeland

DNS

√

0.000

7

Lenon Bell

Kendal

DNS

√

0.000
14 - 15 Years Age Group - 1 Mile

League Position

Swimmer

Club

Coniston

Ullswater

Windermere

Points awarded after Round 1

Girls

1

Anna Dootson

Cockermouth

21:06

√

100.000

2

Macy Dootson

Cockermouth

22:01

√

95.836

3

Millie Bell

Carlisle

22:07

√

95.403

5

Elodie Malcolm

Kendal

25:35

√

82.476

5

Molly Towers

Kendal

25:51

√

81.625

Boys

1

Toby Patton

Copeland

23:52

√

100.000

2

Max Ainsworth

Kendal

25:19

√

94.273
16 + Years Age Group - 1 Mile

League Position

Swimmer

Club

Coniston

Ullswater

Windermere

Points awarded after Round 1

Girls / Ladies 16+

1

Rebecca Amor

Copeland

21:31

√

100.000

2

Megan Sibald

Workington

24:05

NE

89.343

3

Shannon Parker

Ulverston

25:30

√

84.379

4

Samantha Sugden

Carlisle

26:43

NE

80.536

Boys / Men 16+

1

Kes Fountain

Carlisle

21:07

√

100.000

2

James Amor

Copeland

22:22

√

94.411
____________________________________________________________________________________________________________________________________

Cumbria Open Water League Table 2019

Final positions (shows competitors who swam the required two events)
 
11 - 13 Years Age Group - 500m

League Position
Swimmer
Club
Ullswater
Derwent
Coniston
Windemere
Total Time (Fastest 2)
1
Evie-Rose Sugden
Penrith
12:51
07:40
11:26
DNS
19:06
2
Isabelle Wall-Budden
Kendal
09:33
DNS
11:05
09:52
19:25
3
Keira Dunlop
Workington
09:26
DNS
10:45
10:10
19:36
4
Penny Henderson
Penrith
10:50
DNS
11:04
10:57
21:47
5
Kirsten Pearson-Gee
Ulverston
DNS
DNS
11:29
12:56
24:25
1
Reggie Steele
Cockermouth
DNS
05:59
08:24
DNS
14:23
2
Adam Varey
Cockermouth
09:31
07:02
DNS
DNS
16:33
3
Archie Harding
Penrith
DNS
07:16
10:08
09:54
17:10
4
Nathan Caine
Ulverston
DNS
DNS
10:24
09:58
20:02
5
Andrew Hudson
Workington
13:04
DNS
11:19
10:40
21:59

14 - 15 Years Age Group - 1 Mile

League Position
Swimmer
Club
Ullswater
Derwent
Coniston
Windemere
Total Time (Fastest 2 )
1
Millie Bell
Carlisle
24:15
21:27
23:36
22:33
44:00
2
Megan Sibald
Workington
DNS
22:09
DNS
24:13
46:22
3
Molly Towers
Kendal
26:12
23:48
25:55
22:48
46:35
4
Shannon Parker
Ulverston
28:37
24:21
28:24
27:37
51:58
5
Anna Taylor
Cockermouth
28:24
DNS
DNS
28:35
56:59
6
Maisey Allonby
Ulverston
DNS
DNS
31:13
29:43
01:00:56

16 + Years Age Group - 1 Mile

League Position
Swimmer
Club
Ullswater
Derwent
Coniston
Windemere
Total Time (Fastest 2)
1
Eve Dootson
Cockermouth
22:43
20:16
DNS
DNS
42:59
2
Abbie Winstanley
Cockermouth
22:36
DNS
22:42
22:10
44:46
1
Kes Fountain
Carlisle
DNS
20:22
DNS
21:42
42:04
2
Charlie Harding
Penrith
22:49
20:37
23:21
22:21
42:58
3
Ian Henderson
Cockermouth
23:49
21:47
22:53
23:11
44:40
4
Phil Hawkrigg
Copeland
34:03
21:49
23:14
22:56
44:45
5
James Amor
Copeland
DNS
DNS
23:56
23:40
47:36
____________________________________________________________________________________________